auctusESG believes in engaging in productive dialogue about issues related to sustainability, finance and investments in order to accelerate global sustainable finance and climate transition. Click the links below to learn more about reports.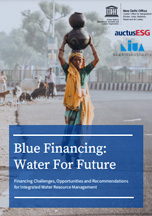 Blue Financing: Water For Future White Paper
Financing Challenges, Opportunities and Recommendations for Integrated Water Resource Management
Global water resources are rapidly declining, with climate change and the COVID-19 pandemic worsening the already impending water crisis. India also faces a turbulent water future. With the rise in extreme weather- related events, a burgeoning urban population and rapidly growing water demand have added immense stress to India's water sources.