auctusESG believes in engaging in productive dialogue about issues related to sustainability, finance and investments in order to accelerate global sustainable finance and climate transition. Click the links below to learn more about reports.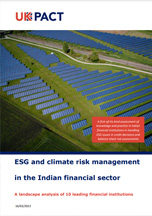 ESG and Climate Risk Management in the Indian Financial Sector
A landscape analysis of 10 leading financial institutions
Financial institutions play a central role in an economy and are instrumental shaping environmental, social and governance (ESG) outcomes through lending, investment, and other financial decisions. Given the urgent challenge posed by climate change, India is on its path to improve the climate consistency and resilience of its financial system. This report maps the current knowledge of risk management and credit- lending teams in participating institutions and documents the gaps in knowledge of ESG and climate risk management. This first-of-its-kind assessment outlines how 10 front-running Indian financial institutions handle ESG issues in credit decisions and balance sheet risk assessments.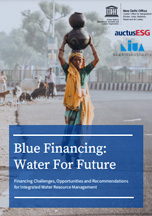 Blue Financing: Water For Future White Paper
Financing Challenges, Opportunities and Recommendations for Integrated Water Resource Management
Global water resources are rapidly declining, with climate change and the COVID-19 pandemic worsening the already impending water crisis. India also faces a turbulent water future. With the rise in extreme weather- related events, a burgeoning urban population and rapidly growing water demand have added immense stress to India's water sources.