auctusESG
believes in engaging in productive dialogue about issues related to sustainability, finance and investments in order to accelerate global sustainable finance and climate transition. Click the links below to learn more about our events and webinars.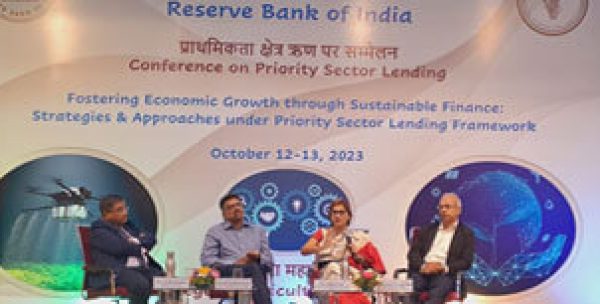 Conference on Priority Sector Lending
College of Agricultural Banking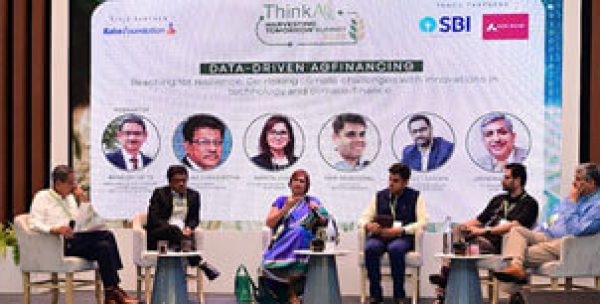 De-risking climate challenges with innovations in technology and climate-finance
ThinkAg Harvesting Tomorrow Summit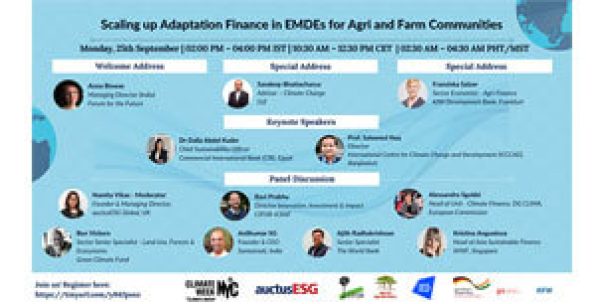 Part 1: Scaling up Adaptation Finance in EMDEs for Agri and Farm Communities
Climate Week New York 2023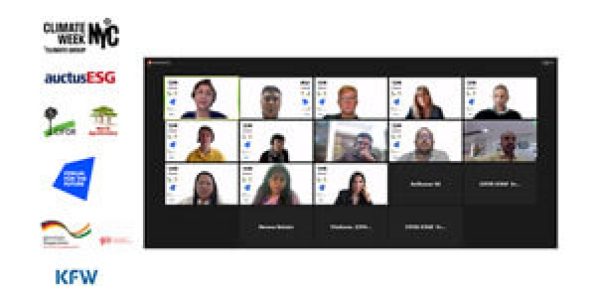 Part 2: Scaling up Adaptation Finance in EMDEs for Agri and Farm Communities
Climate Week New York 2023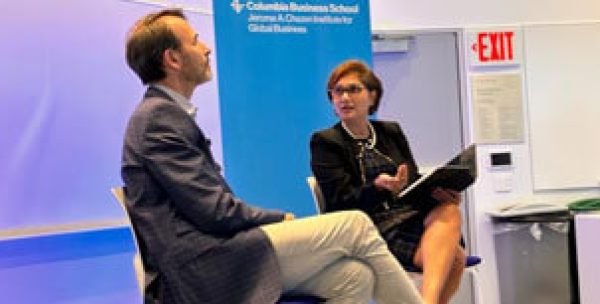 Nand & Jeet Khemka Distinguished Speaker Forum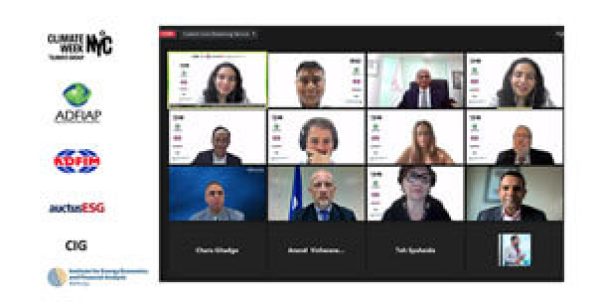 Fuelling Change: Transformative Role of DFIs in Funding Energy Transition in Developing Asia
Climate Week New York 2023
Global Careers in Renewable Energy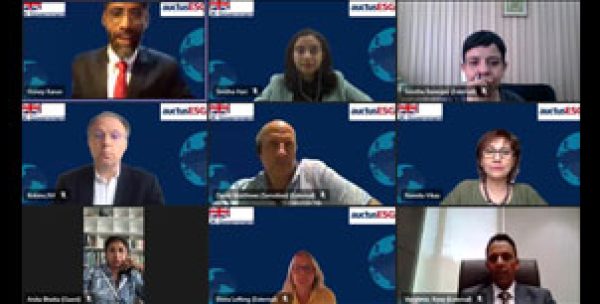 Report Launch | Decoding Net-Zero | Gender Responsive Transition Finance Framework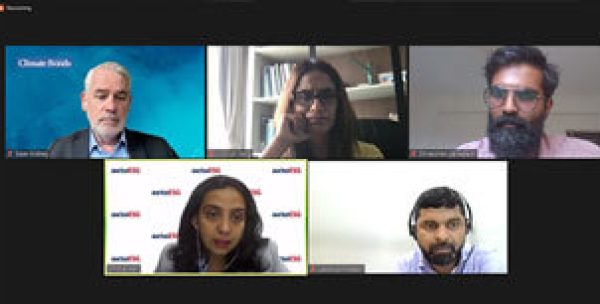 G20 On Harmonising Green Taxonomies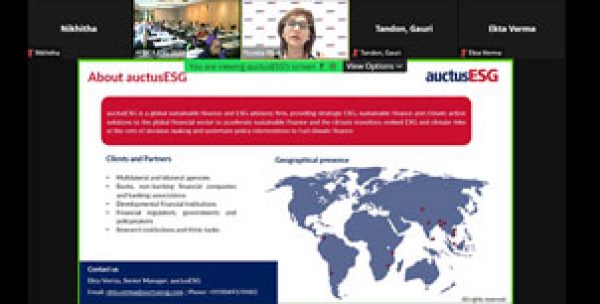 Mainstreaming Gender-Smart Climate Finance with Blended Finance Structures
Africa Impact Investing & Sustainable Finance Summit 2023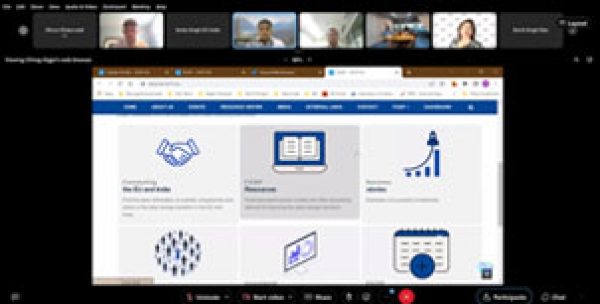 Launch of the EU-India Financing Investment in Clean Energy Platform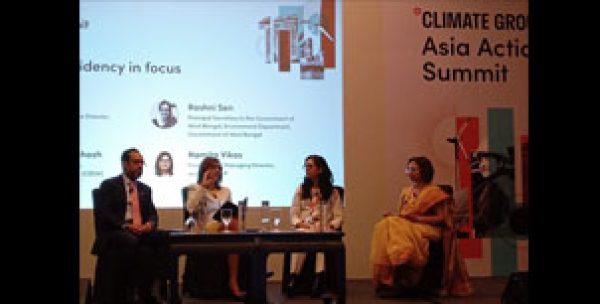 India G20 presidency in focus under the Asia Action Summit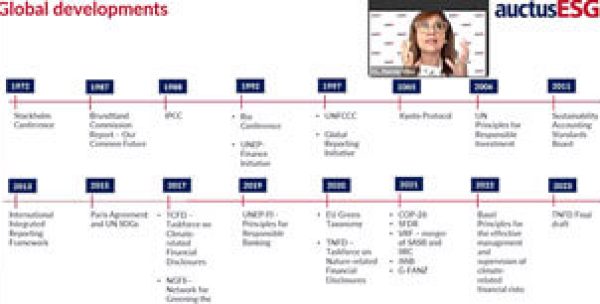 Current preparedness of Indian banks on ESG and climate risks management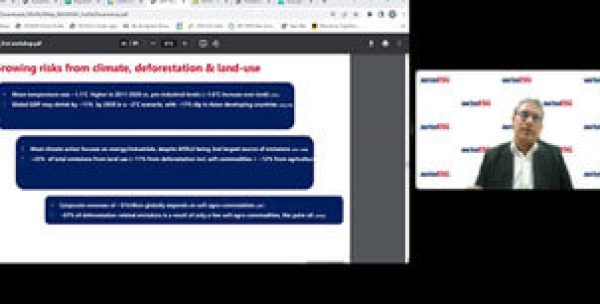 Responsible Financing in Forest and Agro Commodities Sector
Indian Banks' Association and WWF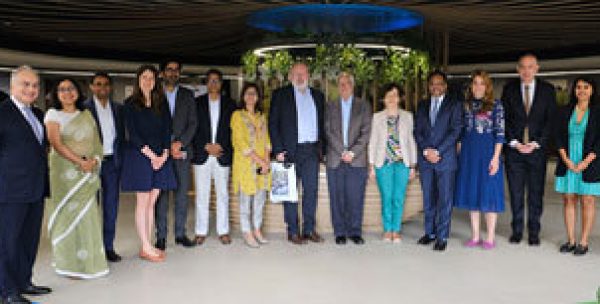 Roundtable on Strengthening India-EU Cooperation on Climate Change & Clean Energy Transition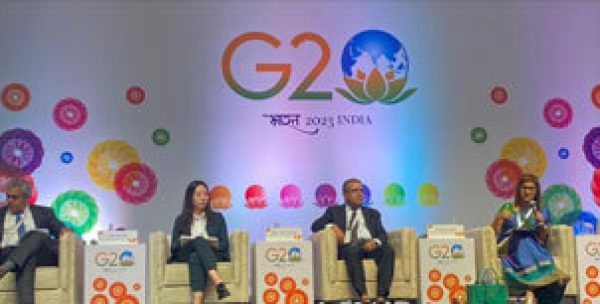 Disaster Risk Reduction Working Group Meeting under G20 India
Coalition for Disaster Resilient Infrastructure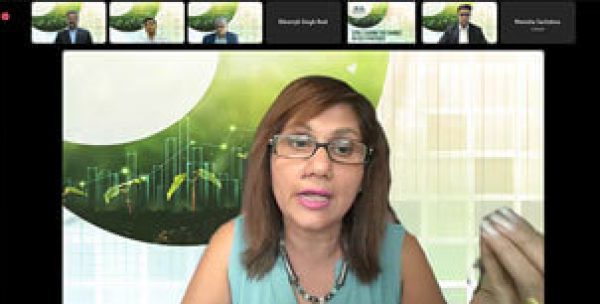 CFOs: Leading the Charge in ESG Strategies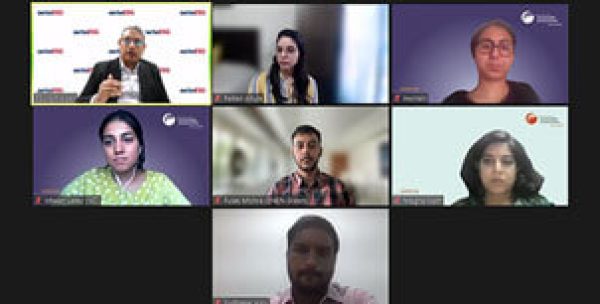 Accelerating Net Zero Movement in Indian MSME Manufacturing
Institute for Sustainable Communities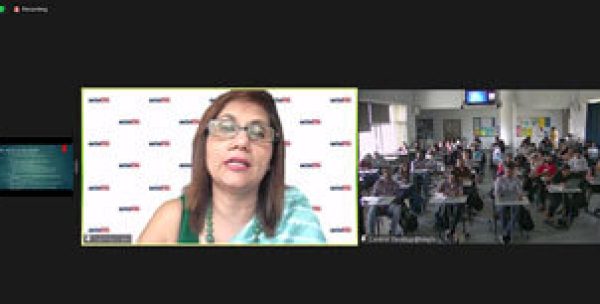 ESG and CSR – Pathways to Sustainability
Indian School of Development Management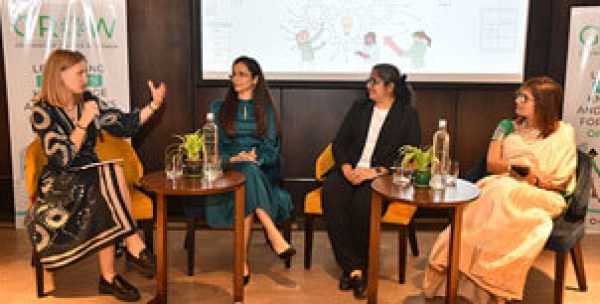 Greening of Finance by Women – Launch Event
The French Development Agency (AFD), SIDBI and Shakti Sustainable Energy Foundation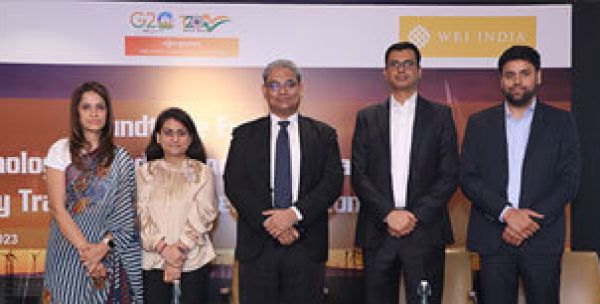 Technological and Financial Pathways for Energy Transition in Developing Economies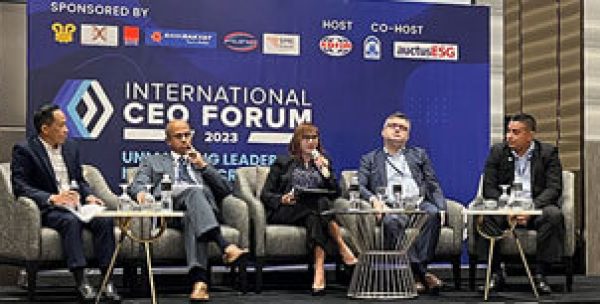 Technology, Innovation and Women's Entrepreneurship in the Post-COVID-19 Era
Scaling up Clean Energy Investment in Emerging Economies
Ministry of New and Renewable Energy under G20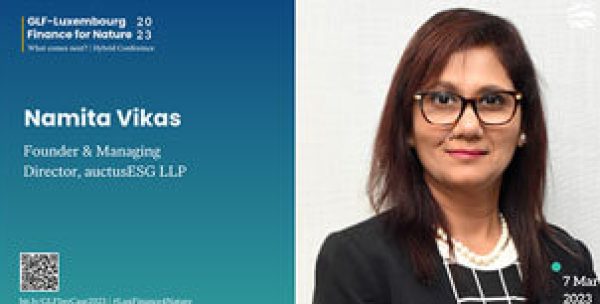 6th Investment Case Symposium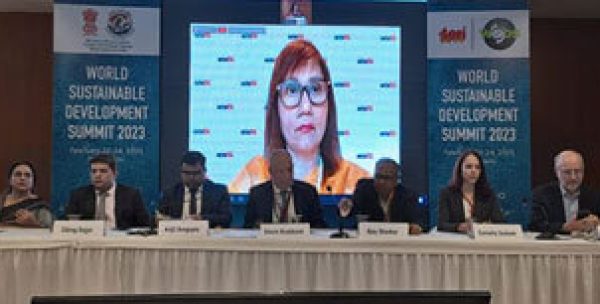 The relevance of the Energy Efficiency First Principle in an Indian context
World Sustainable Development Summit – TERI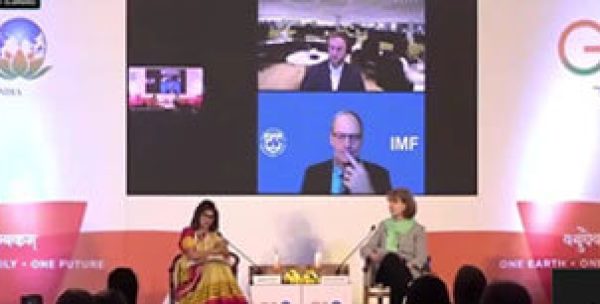 First Meeting of the Sustainable Finance Working Group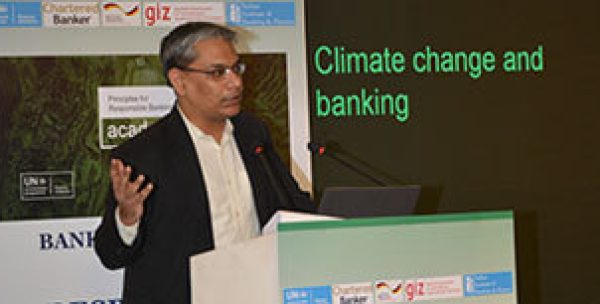 Responsible Banking for Board Members & Executives
30th Jan to 02nd Feb 2023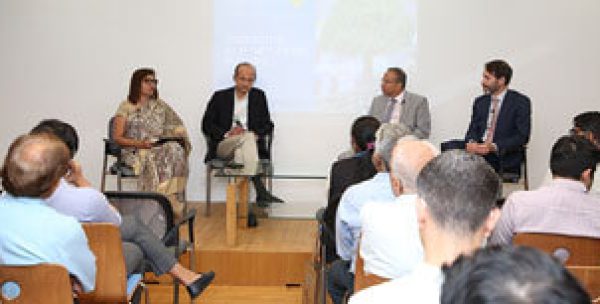 Investing in a Net-Zero Future
Columbia Business School and Columbia Global Centers, Mumbai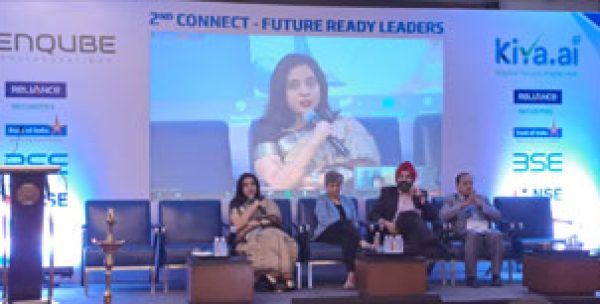 Can India make a difference for Sustainable, Equitable, Inclusive Growth in the Amrit Kaal?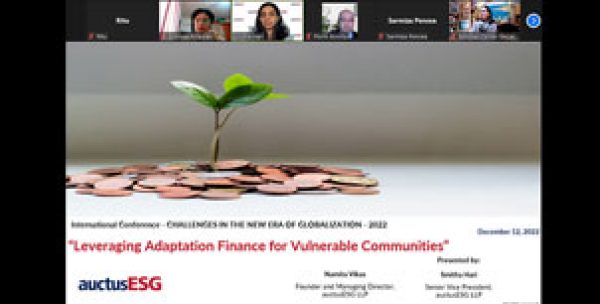 Leveraging Adaptation Finance for Vulnerable Communities
Institute of World Economy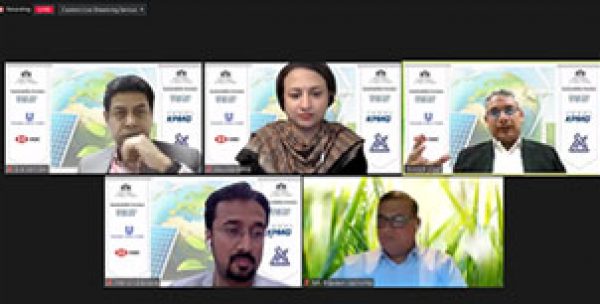 Climate Tech for Net Zero
Bombay Chamber of Commerce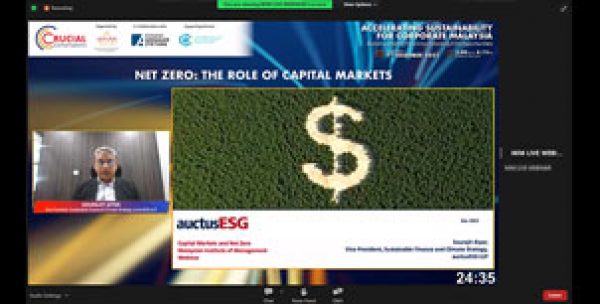 Accelerating Sustainability for Corporate Malaysia
Malaysian Institute of Management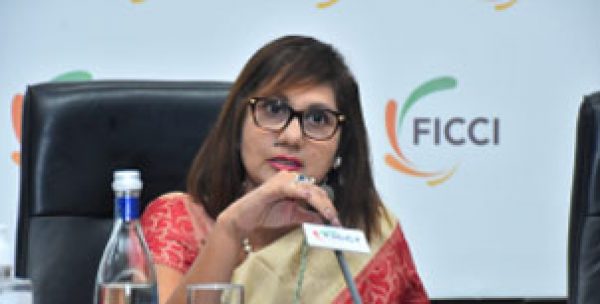 Accelerating Circular Economy for Sustainable and Inclusive Growth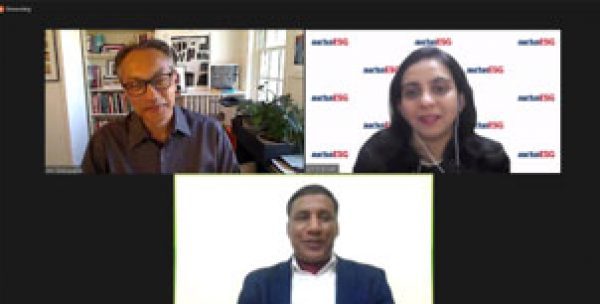 Climate Financing: positioning emerging economies in the new era of energy transitions
Institute of Certified Chartered Economists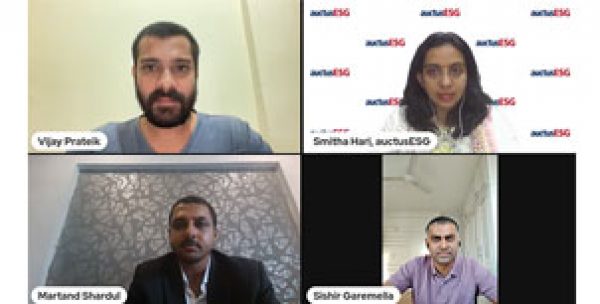 Energy Transition in India: Innovations and Challenges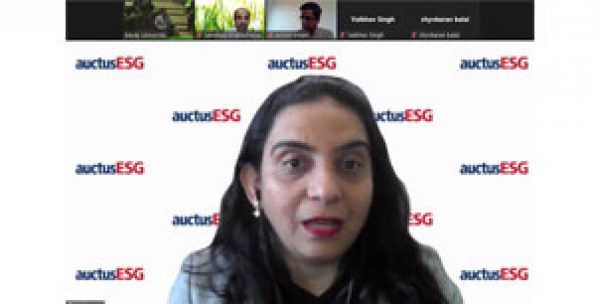 Financing India's Sustainable Growth : Challenges and The Way Forward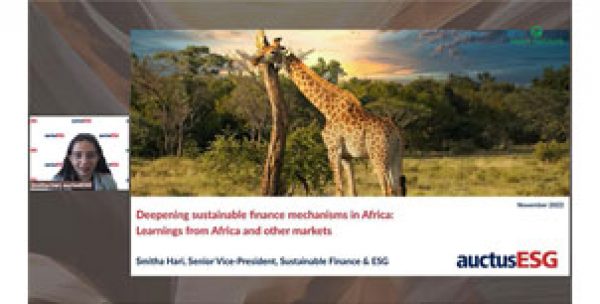 World Sustainability Conference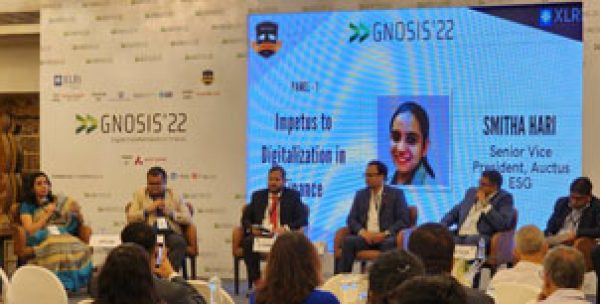 GNOSIS 2022 - Finance Symposium of XLRI
XLRI – Xavier School of Management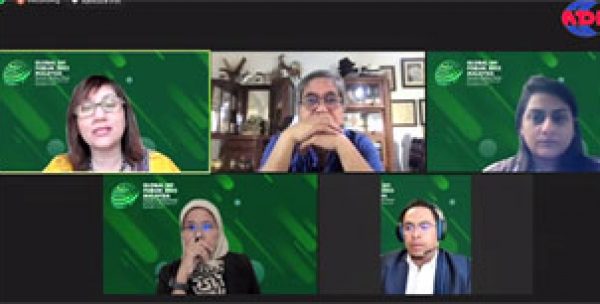 ADFIM, ADFIAP, ADFIMI, auctusESG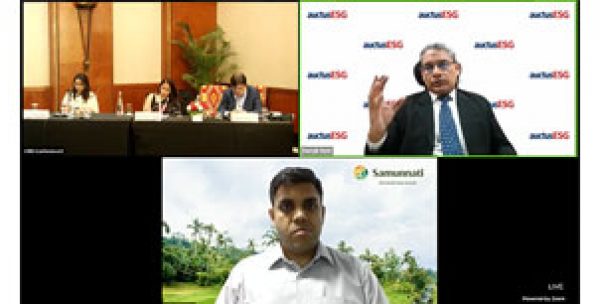 India and Sustainability Standards
Centre for Responsible Business and Rainforest Alliance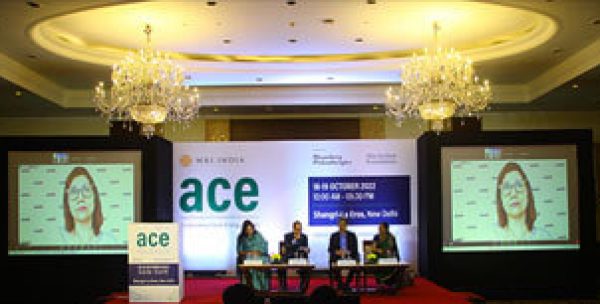 Accelerating Clean Energy in India
World Resources Institute India (WRI)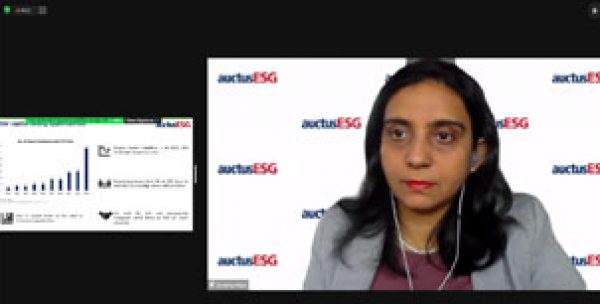 Masterclass on ESG for Investors: Moving beyond Risks to Opportunities
Sankalp Global Summit 2022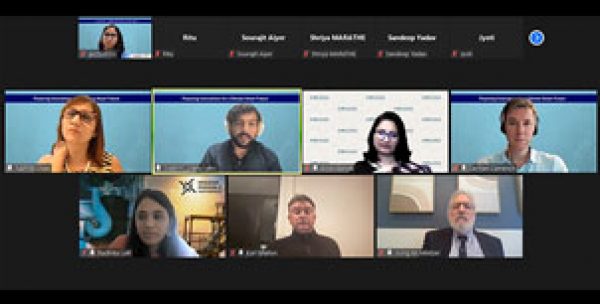 Financing Innovations for a Climate-Smart Future (under Science Summit at UNGA 77)
auctusESG and ISC – Intelligence in Science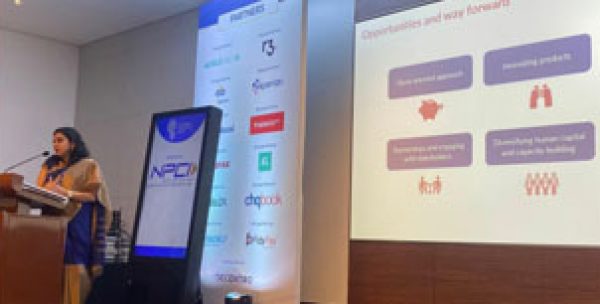 Masterclass on the Role of FinTech in upholding sustainable finance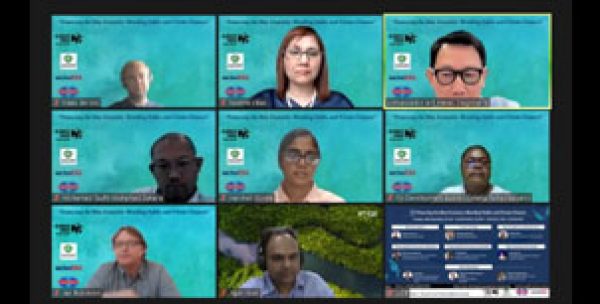 Financing Blue Economy: Blending Public and Private Finance (under Climate Week New York 2022)
ADFIAP, ADFIM and auctusESG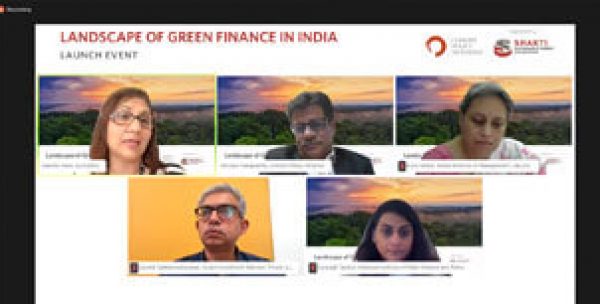 India's Green Finance Landscape - Launch Event
Climate Policy Initiative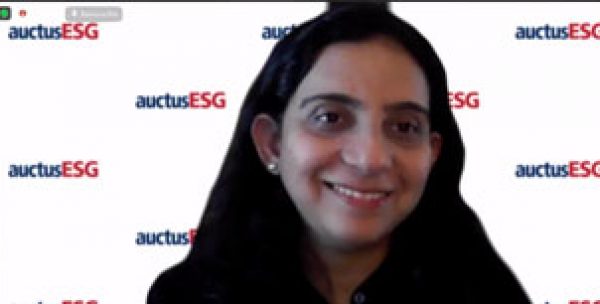 ESG Implications and Strategy, and Non-financial disclosures
National Institute of Industrial Engineering (NITIE) and Environmental Management Center (EMC)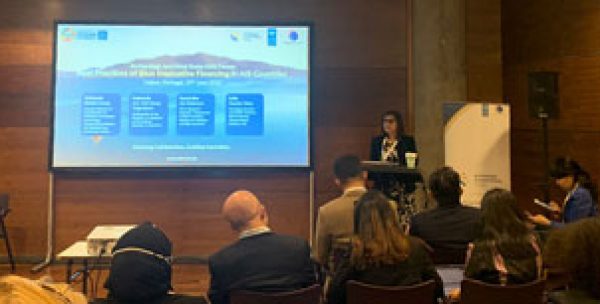 UN Ocean Conference 2022: Best Practices of Blue Innovative Financing in AIS Countries
AIS Forum, UNDP, Indonesian Ministry for Maritime Affairs and Investment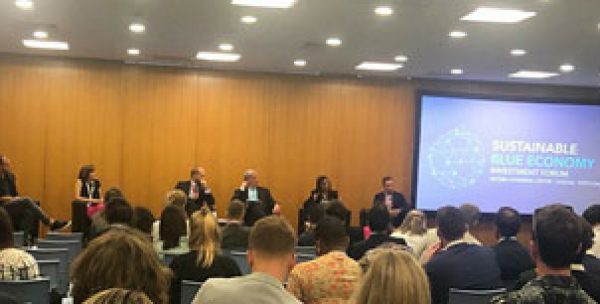 UN Ocean Conference 2022: Sustainable Blue Economy Investment Forum (SBEIF)
United Nations, Governments of Portugal and Kenya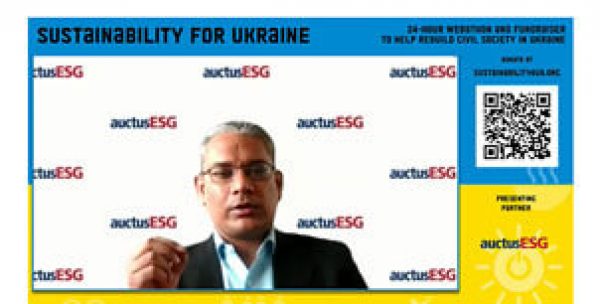 Financing a Just Transition: Focus on Ukraine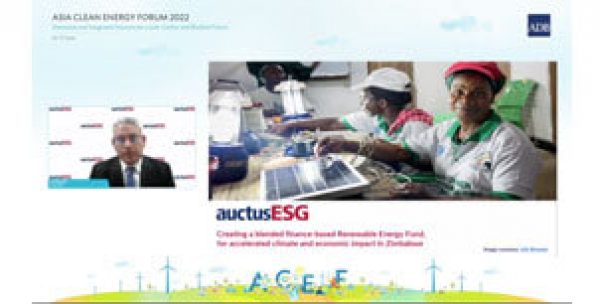 Asia Clean Energy Forum 2022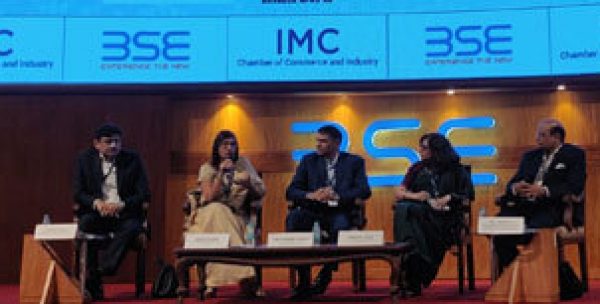 12th Annual Banking and Finance Conference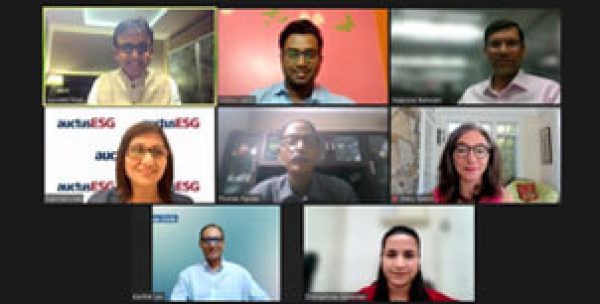 ESG and Climate Risks: Focus on India and the USA
Indo-American Chamber of Commerce (IACC)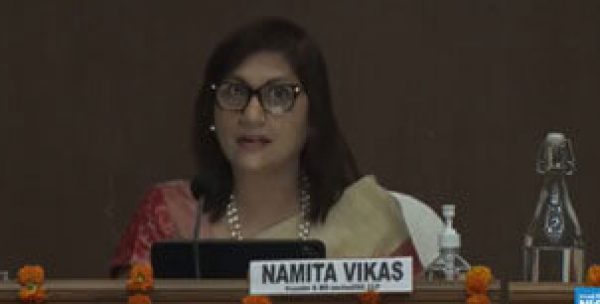 Promoting Impactful CSR and Good Governance
Indian Institute of Corporate Affairs (IICA)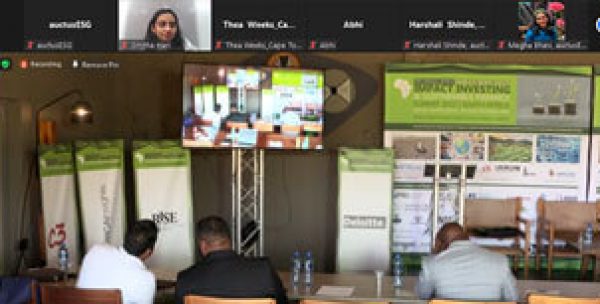 Global Developments in Sustainable Finance & ESG
Annual Africa Impact Investing and Sustainable Finance Summit 2022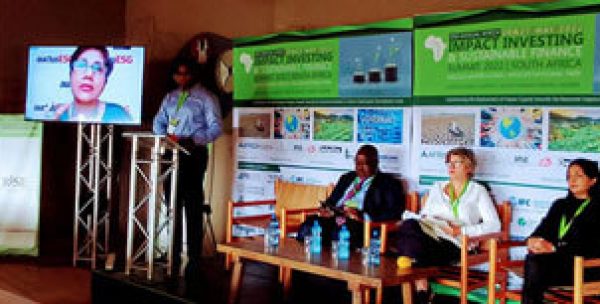 What Role Can Sustainable Finance Play to Finance the SDGs in Africa?
Annual Africa Impact Investing and Sustainable Finance Summit 2022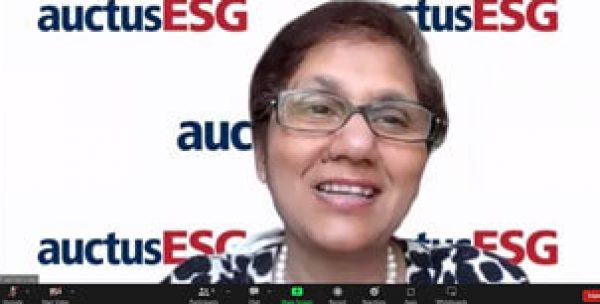 Climate Risks, Opportunities & TCFD
Bank Pembangunan Malaysia and UN Global Compact Malaysia & Brunei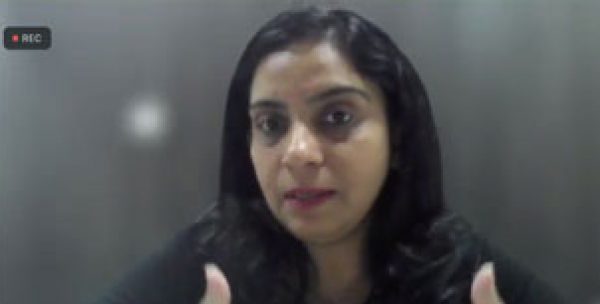 Climate Risk and the Indian Banking System
Climate Risks Horizons and Climate Trends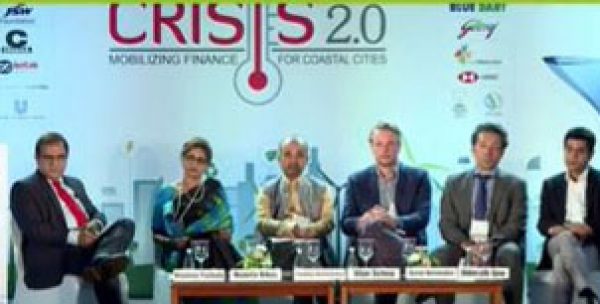 Climate Crisis 2.0: Mobilising Finance for Coastal Cities
Mumbai First, Government of Maharashtra, and the European Union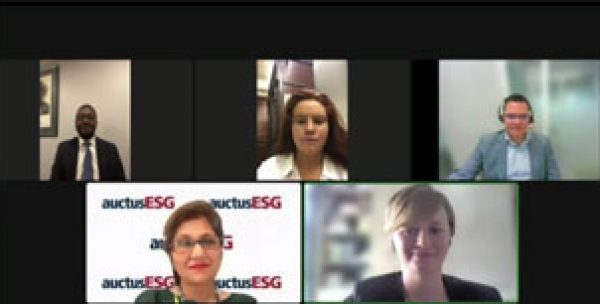 Mauritius Sustainable Finance Intensive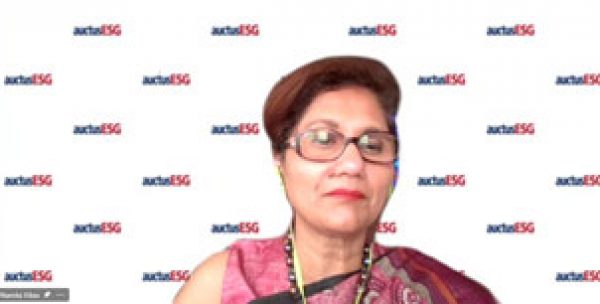 Nottingham University Business Leader Series
University of Nottingham Malaysia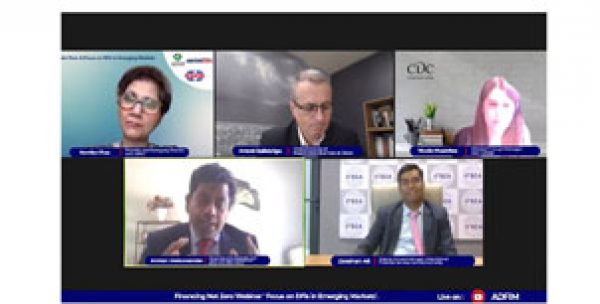 Financing Net Zero: Focus on DFIs in Emerging Markets
auctusESG, Association of Development Finance Institutions of Malaysia, Association of Development Finance Institutions of Asia Pacific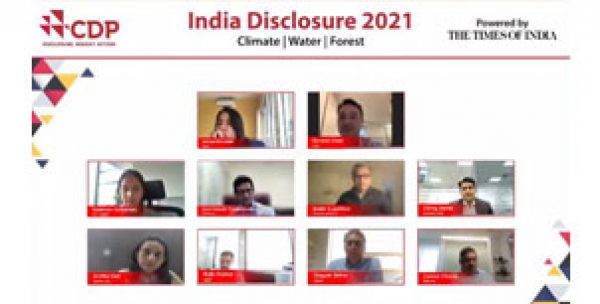 CDP India Disclosure 2021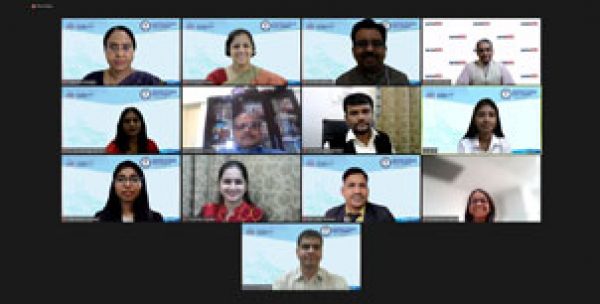 International Conference on Innovations in Business, Trade and Commerce
MIT World Peace University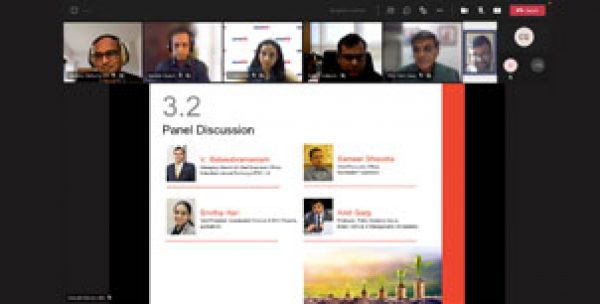 Capability Building Session for Start-ups Working in the field of
Sustainable / Green Finance
The British High Commission, Gujarat International Finance Tec-City (GIFT), and International Financial Services Centres Authority (IFSCA)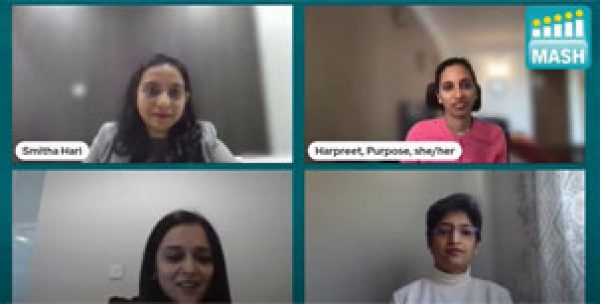 SheInspires: Celebrating Women Leaders Who are Shaping the Green Economy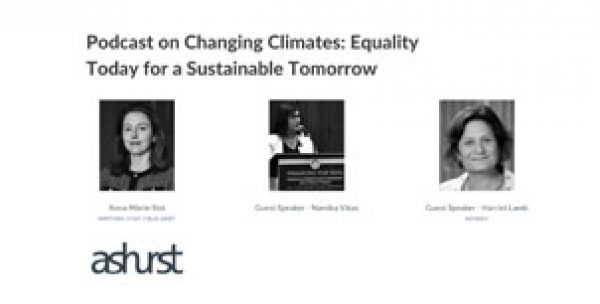 Podcast on Changing Climates: Equality Today for a Sustainable Tomorrow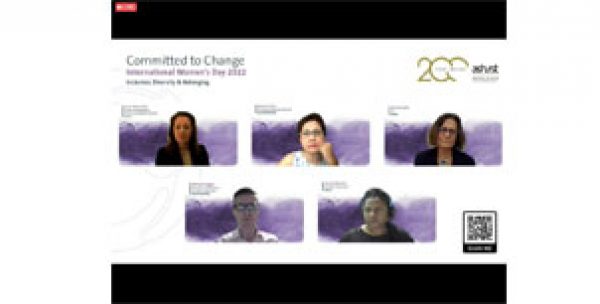 Gender Equality Today for a Sustainable Tomorrow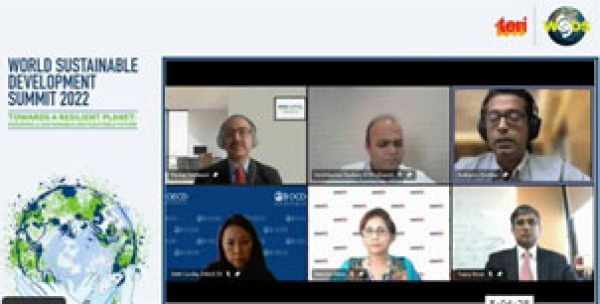 World Sustainable Development Summit
The Energy Resources Institute (TERI)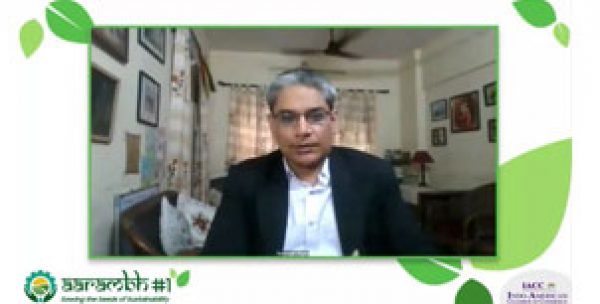 Aarambh: Sowing the Seeds of sustainability
Indo-American Chamber of Commerce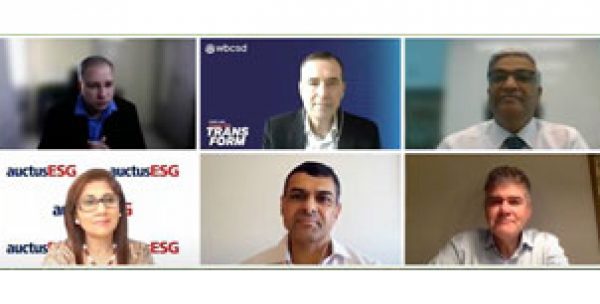 ESG Landscape: Future-proofing Indian Businesses
ET Energy World and SABIC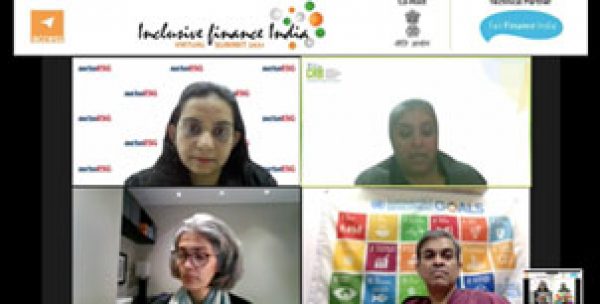 Inclusive Finance India Summit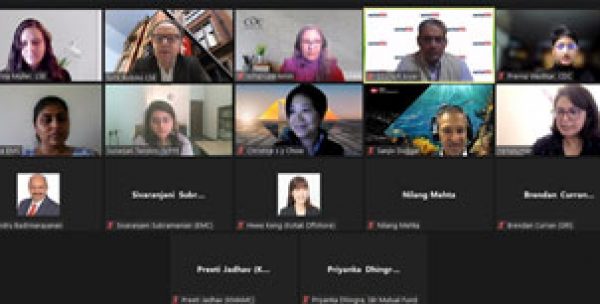 Understanding Strategic Investments for Just Transition in India
CDC Group, London School of Economics (LSE), and Environmental Management Center (EMC)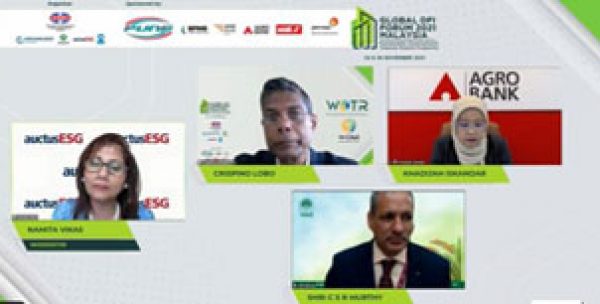 Global DFI Forum 2021 Malaysia
auctusESG, ADFIM, ADFIAP, ADFIMI, and World Bank Group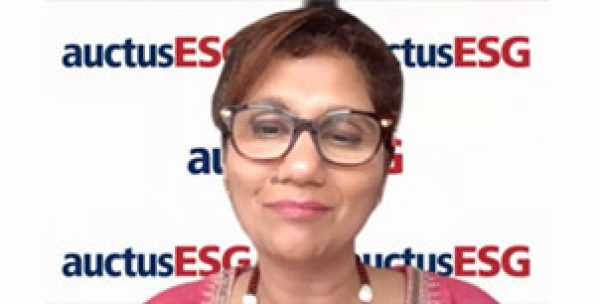 Launch of ECOBARI - Ecosystem Based Adaptation for Resilient Incomes
Watershed Organisation Trust (WOTR)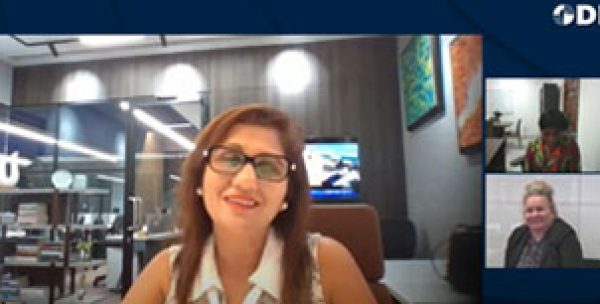 Where can Development Finance Institutions invest to have the most impact?
Managing Climate-related Risks in India's Financial Sector: Lessons from Other Countries
auctusESG, ODI, Climate Bonds Initiative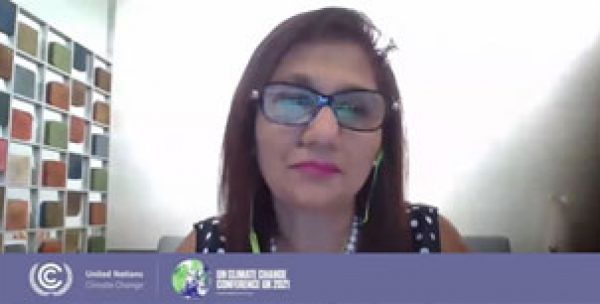 COP 26: Scaling and Financing Ecosystem-based Adaptation
International Centre for Research in Agroforestry (ICRAF)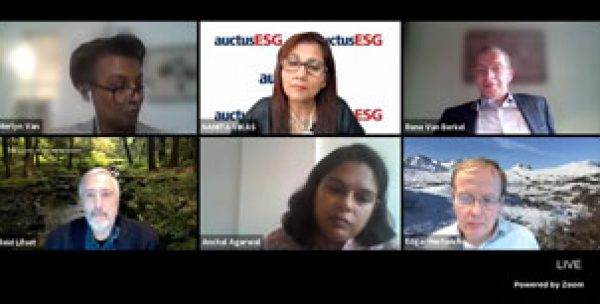 Resource Efficiency and Climate Change: Material Efficiency Strategies and Untapped Climate Solutions for Business
Centre for Responsible Business and International Resource Panel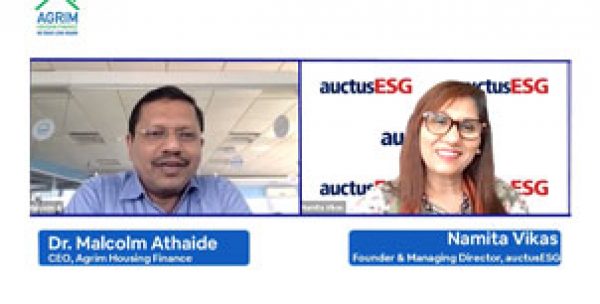 Beyond the Boardroom: Diversity Management and Sustainability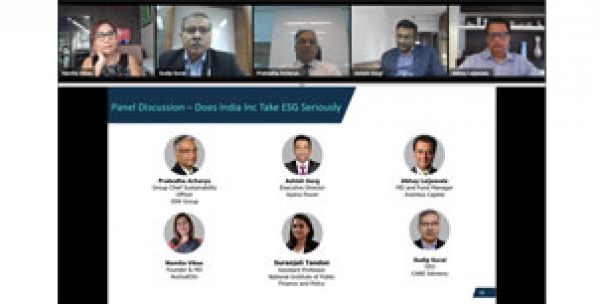 India Inc's Tryst with ESG
auctusESG and CARE Advisory and Research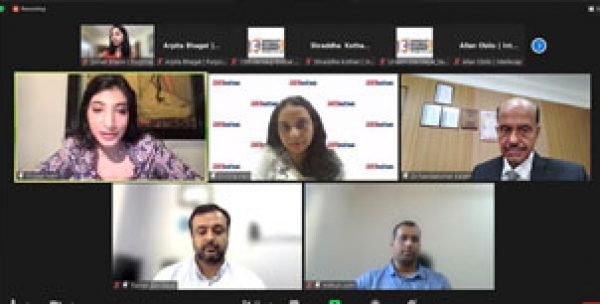 A Focus on the Environmental Impact of the MSME Sector
Sankalp Global Summit 2021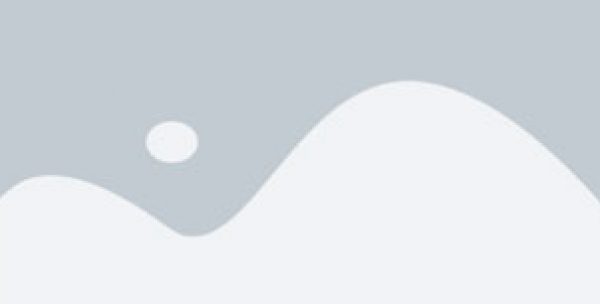 Greening the Economy in India
Willis Towers Watson and The Energy Resources Institute (TERI)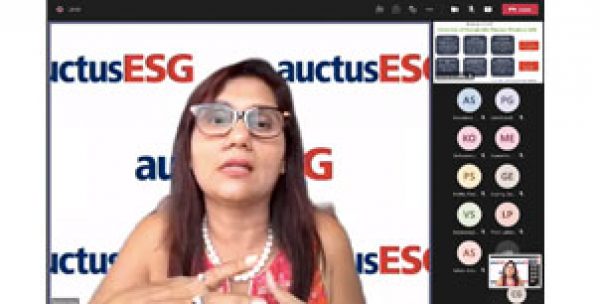 Sustainable Finance and ESG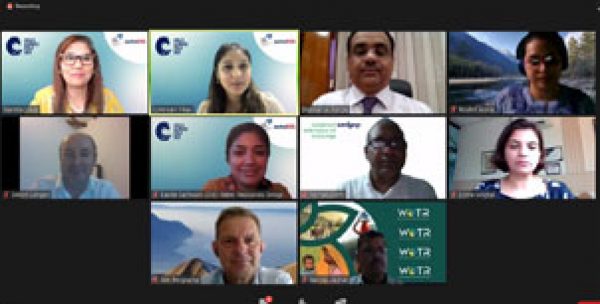 Scaling Up Freshwater Restoration by Using Local/indigenous knowledge
auctusESG, 2030 Water Resources Group (World Bank)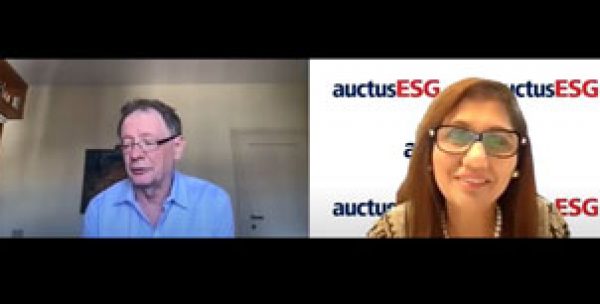 Roadmaps for Scaling Ecosystem-based Adaptation
Watershed Organisation Trust and TMG Think Tank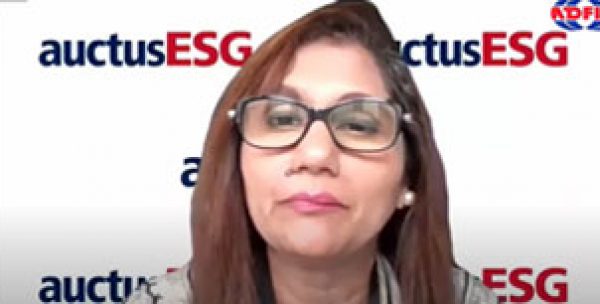 UN Climate Week New York 2021
auctusESG, Association of Development Finance Institutions of Malaysia, Association of Development Finance Institutions of Asia Pacific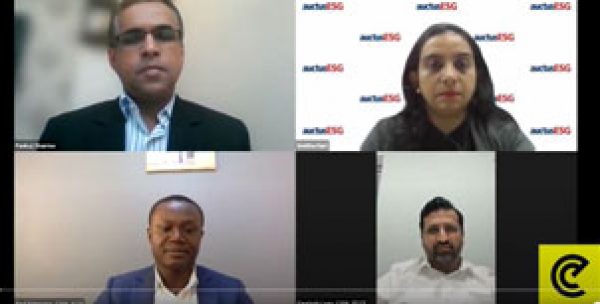 Integrating ESG in Emerging Markets: From Crisis To Resilience
Institute of Certified Chartered Economists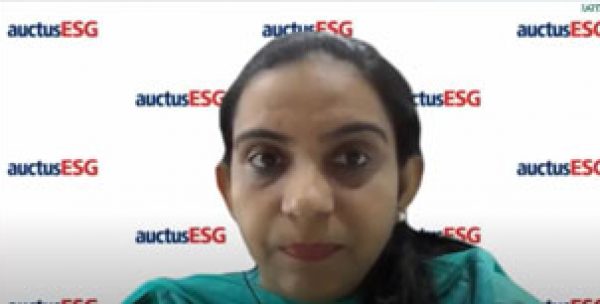 Women's Economic Empowerment and Opportunities for Climate Action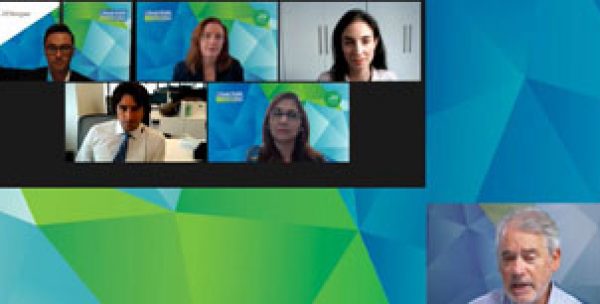 Climate Bonds Conference 2021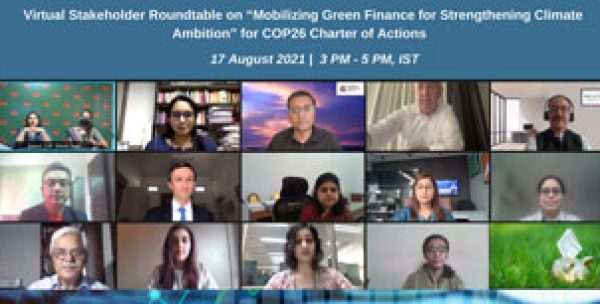 Mobilizing Green Finance for Strengthening Climate Ambition
The Energy Resources Institute (TERI)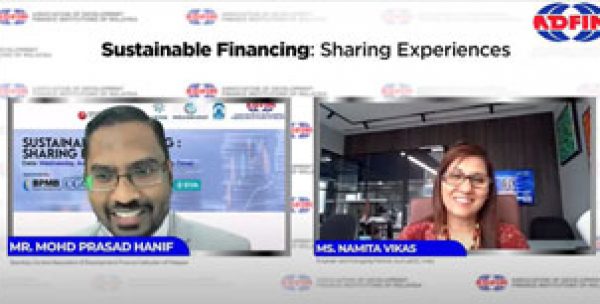 Sustainable Finance and ESG
Association of Development Finance Institutions of Malaysia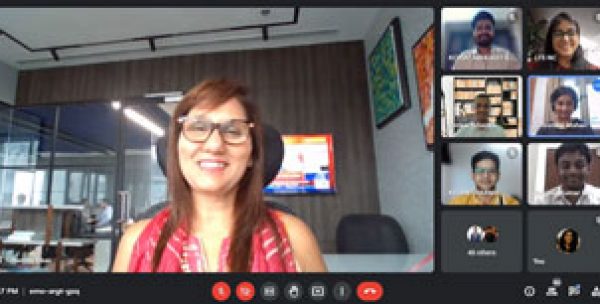 Sustainable Finance and ESG
Indian Insitute of Management Lucknow
(IIM-L)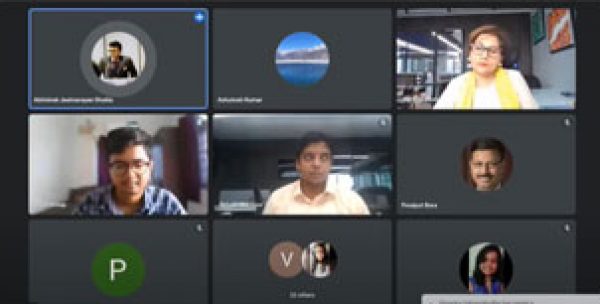 Indian Institute of Technology Roorkee (IIT-R)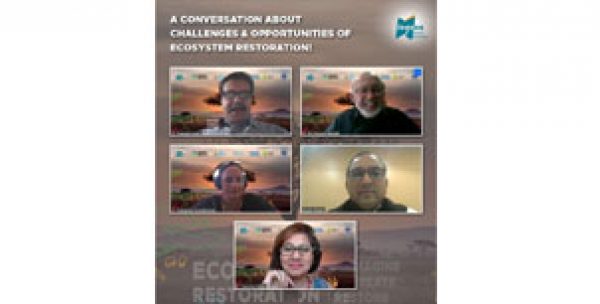 Sustainable Circular Economy Series: Doing Well by Doing Good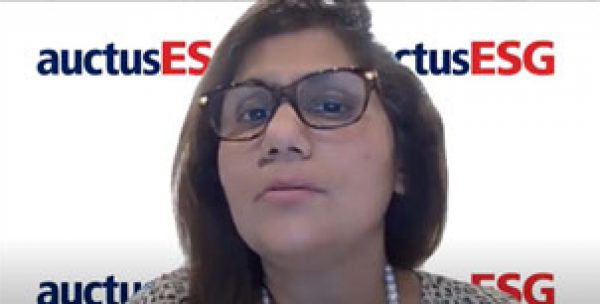 Emerging Markets Investor Alliance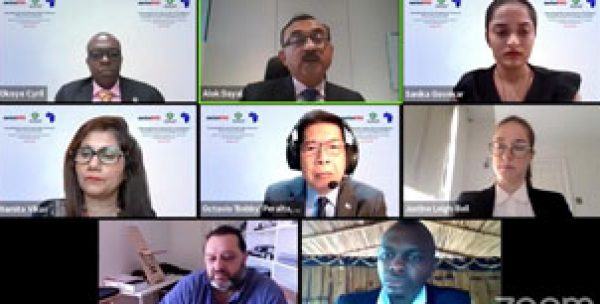 Decoding ESG and Climate Risks: Focus on DFIs Africa and Asia
auctusESG, Association of African Development Finance Institutions (AADFI), and Association of Development Financing Insitutions in Asia and Pacific (ADFIAP)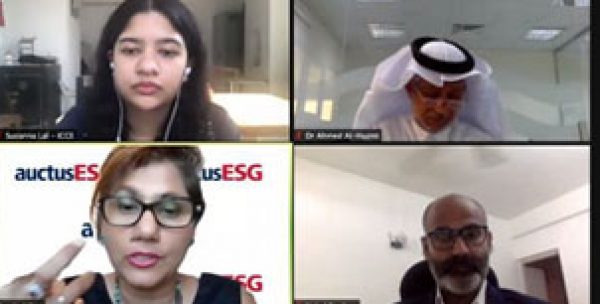 Strategic Direction: Challenges and Opportunities in ESG
International Council for Circular Economy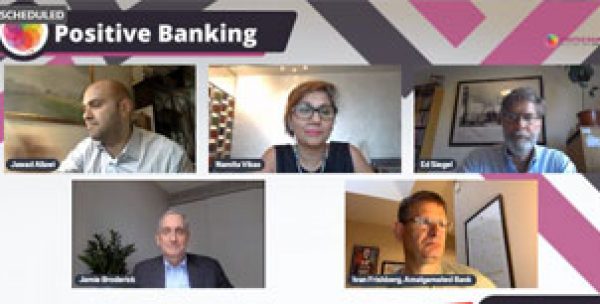 Positive Banking Conference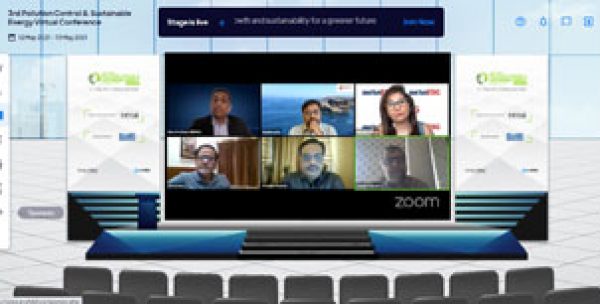 Driving Growth and Sustainability for a Greener Future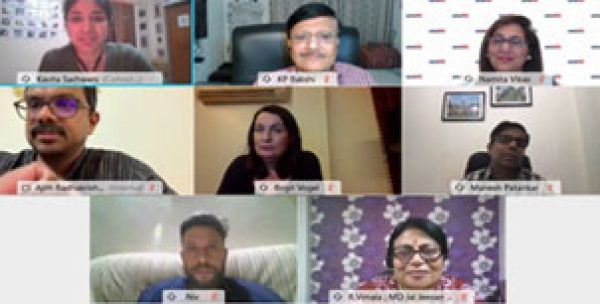 Water Reuse in Agriculture in India
2030 Water Resources Group (World Bank) and Government of Maharashtra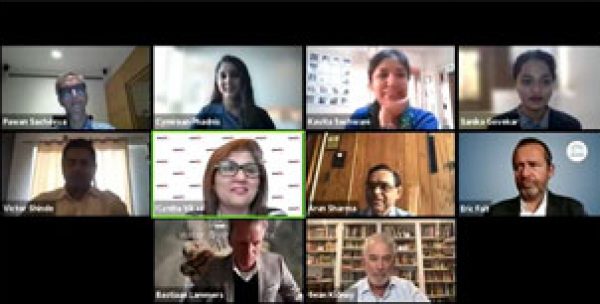 Launch of whitepaper on Blue Financing: Water for Future
auctusESG, UNESCO, and National Institute of Urban Affairs (NIUA)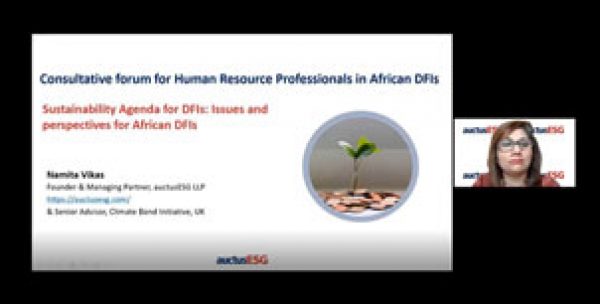 Empowering Human Capital Sustainability in DFIs
Association of African Development Finance Institutions (AADFI)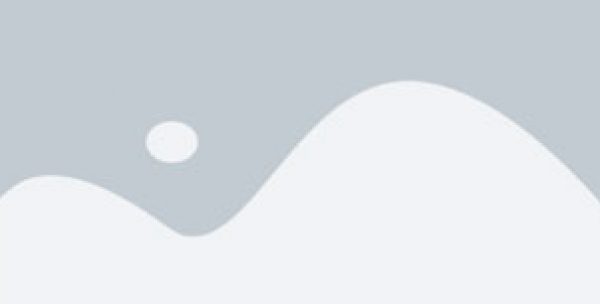 Roundtable on Sustainable Finance
auctusESG and International Financial Services Authority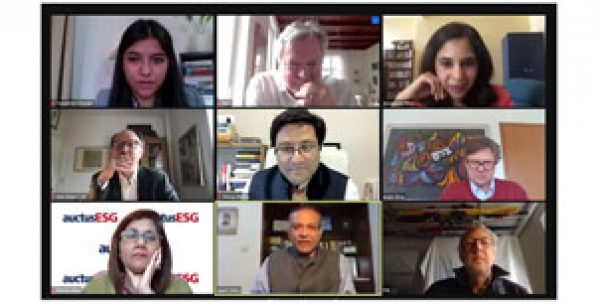 Financing Green Transition: The Role of Regulations
Observer Research Foundation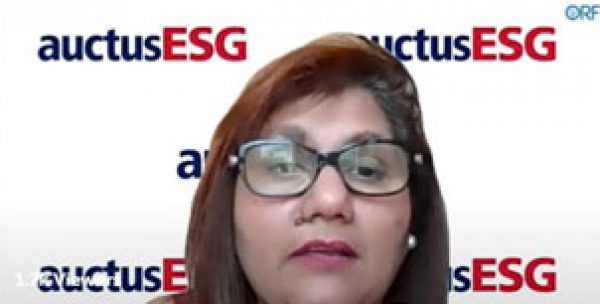 Gender Justice in Green Transition
Observer Research Foundation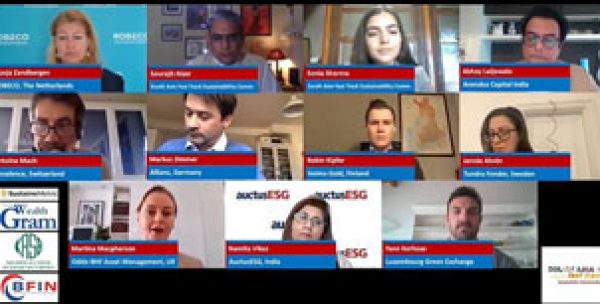 Making ESG greenwashing-free
South Asia Fast Track Sustainability Communications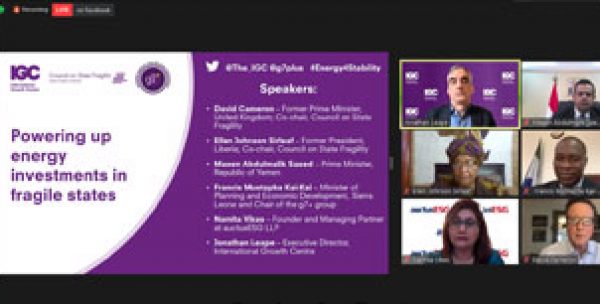 Powering Up Energy Investments in Fragile States
International Growth Center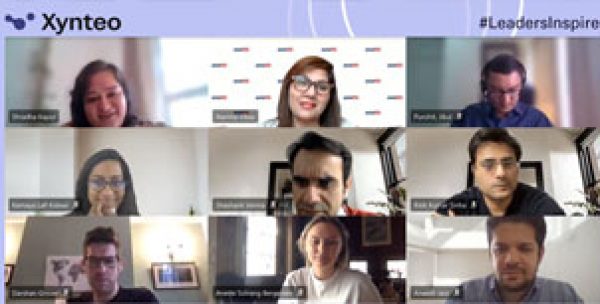 Decarbonisation of Heavy Industries in India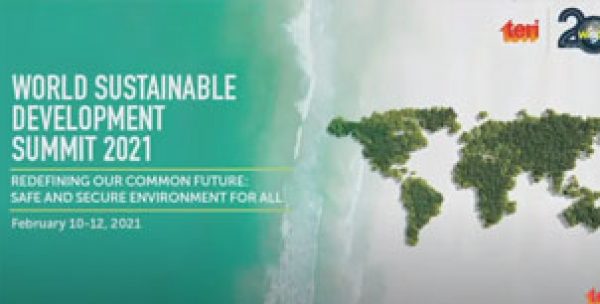 World Sustainable Devleopment Summit 2021
The Energy Resources Institute (TERI)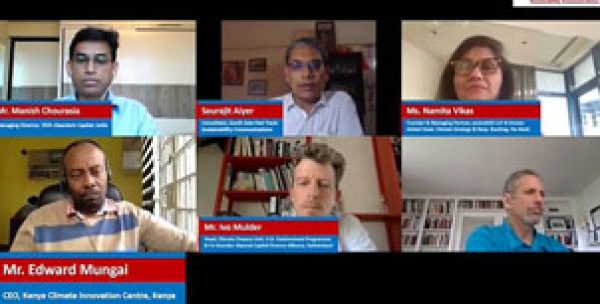 Reviving Climate Finance after COVID-19
South Asia Fast Track Sustainability Communications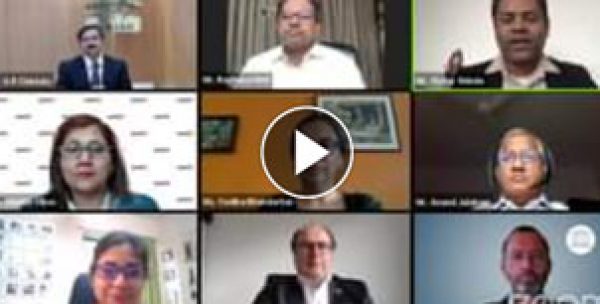 Blue Financing - Water for Future
auctusESG, UNESCO, and National Institute of Urban Affairs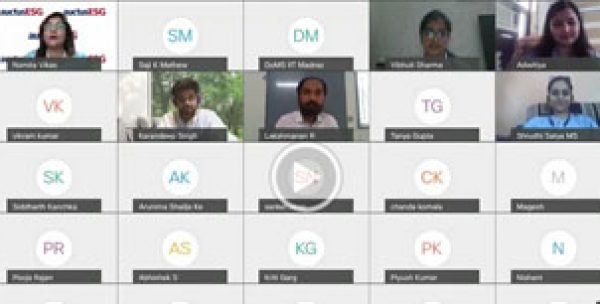 Indian Institute of Technology - Madras (IITM)
Building Sustainable Economies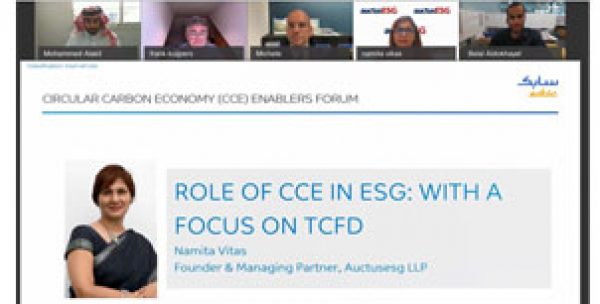 Circular Carbon Economy (CCE) Enablers Forum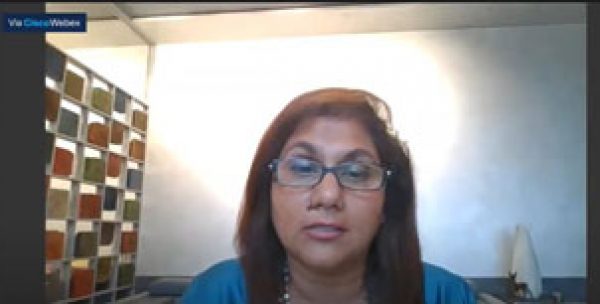 Mobilising Green Finance for Industry Transition
The Energy Resources Institute (TERI)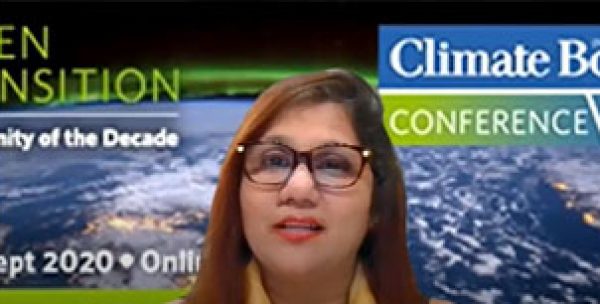 Green Transition - Opportunity of the Decade: A path forward for Transition Finance Initiative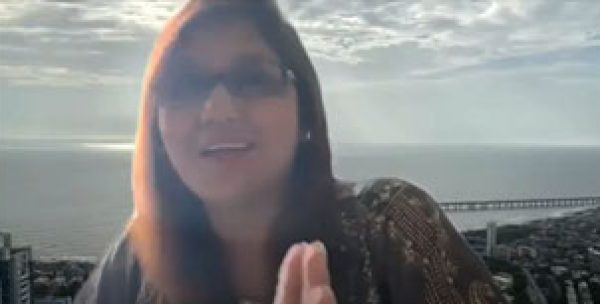 Transforming ESG For a Sustainable Post-COVID World
Treeni Sustainability Solutions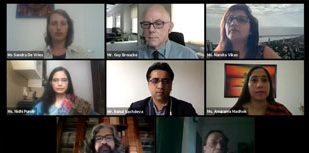 Water Future for Cities: Making Water Everybody's Business
UNESCO and National Institute of Urban Affairs