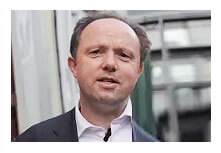 Professor in Practice - Sustainable Finance, Grantham Research Institute on Climate Change and the Environment, the London School of Economics and Political Science
Nick Robins is a Professor in Practice for Sustainable Finance at the Grantham Research Institute. He leads the sustainable finance research theme at the Grantham Research Institute. The focus of his work is on how to mobilise finance for climate action in ways that support a just transition, promoting the role of central banks and regulators in achieving sustainable development and investigating how the financial system can support the restoration of nature.
He is author of The Road to Net Zero Finance for the UK's Climate Change Committee and co-founder of the Financing the Just Transition Alliance. He leads the finance platform for the Place-based Climate Action Network, and is co-chair of the International Network for Sustainable Finance Policy Insights, Research and Exchange (INSPIRE). He has co-founded Carbon Tracker and Planet Tracker. Nick has published widely and is the author of The Corporation that Changed the World: How the East India Company Shaped the Modern Multinational' (2005) and co-editor of Sustainable Investing: the Art of Long-Term Performance (2008). He is currently working on an ecological history of England and a book on finance, climate change and justice.
Nick holds a BA in History from Cambridge University and an MSc in International Relations from LSE.