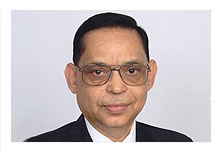 Advisor to International Finance Corporation (IFC), Institute of International Finance (IIF) & Mastercard & Former Global Chief Investment Officer, IFC
Arun Kumar Sharma, is President of Grovepike Associates. Mr. Sharma is global leader in structured finance and has pioneered securitization and related structured products in a range of markets and is widely considered as one of the pioneers of blended finance as well as climate finance.He serves as a senior advisor to a range of global corporations and international agencies, including Mastercard, AXA Insurance, and the International Finance Corporation (IFC/World Bank). He also serves on the Board of Grass Roots Trading Network for Women, an Indian nonprofit organization linking women micro-entrepreneurs to markets on fair and equitable terms. He advises global clients on sustainable finance strategies focused on renewable energy, clean transportation, and green housing, including on the use of Blended Finance Solutions to support a range of climate friendly projects.
Prior to his current role Mr. Sharma was Chief Investment Officer at the IFC where he led a range of climate finance projects and initiatives aimed at supporting renewable energy, energy efficiency, cleaner production, small scale off grid solar and other projects that have a direct impact on reducing global greenhouse emissions and support a more climate friendly model of economic activity.As part of this work, he established the first private sector green bank in India in a joint venture with the TATA Group, TATA Cleantech Capital, to finance a range of climate friendly businesses. Mr. Sharma structured the first Green Bond investment transaction for IFC in emerging markets, helped negotiate and close the first credit line for rooftop solar panels from the Green Climate Fund for Tata Cleantech Capital, and created the first program in India to convert diesel pumps to solar pumps for micro enterprise salt producers.